Kia ora 
We wish you all the best for this holiday season. For those taking a break, we wish you a safe and relaxing holiday, and for those working through, we appreciate this and hope you can find time for yourself in the midst of the busyness.
The ResOrgs team will be spending time with family and friends and making the most of the open borders. Our offices will be closed from 23rd December until the 9th January 2023.
We thank you for your continuing support during 2022 and look forward to working with you next year.
Meri Kirihimete me te Hape Nū Ia!
A year in review
As we wrap up 2022, check out some of our key highlights from the year.

Helping organisations prepare for climate change
Addressing and adapting to climate change and its impacts is a priority for many organisations.
During 2022, in partnership with the Urban Intelligence team, we have been working with Buller District Council to assist with climate risk assessment and adaptation planning.
Our Let's Talk About Risk project is investigating how best to effectively engage with communities on climate change risk.
We are also proud contributors to an MBIE Smart Idea programme, Innovating climate risk assessment: A system-wide, geospatial approach for councils and communities, improving the quality of climate change risk assessments.
See how we can help your organisation prepare for climate change
---

What do New Zealanders expect from buildings in an earthquake?
Over the past year, we've been working alongside the New Zealand Society of Earthquake Engineering, with funding from Toka Tū Ake EQC, to understand societal expectations for the seismic performance of buildings.
---

Building NZ's emergency management capability
We are proud to have been working with NEMA and Skills NZ on a training package to help build emergency management capability across the public and private sectors.
The first course, 'Knowledge of the CIMS Intelligence Function' is now available and a further 7 training packages will be added next year, providing Planning, Operations, and Logistics training for organisations using CIMS.
The courses are available on NEMA's online learning platform Takatū, accessible with a Real Me account.

Guide to help understand seismic building assessments
We are pleased to have supported MBIE in creating this guide to help building users, tenants, and owners understand seismic assessments of their buildings, and in particular the percentage of New Building Standard (%NBS) and how this relates to life safety risk.
Download the Seismic Risk Guide
---

Earthquake-Prone Building project wins RiskNZ Awards
We are thrilled our project was recognised in the 2022 RiskNZ Awards, winning the Risk Initiative of the Year and Stronger Together in Partnership awards.
The project team created a 5-step decision-making framework for local councils to support decision-making around the occupation of earthquake-prone buildings.
Learn more about the framework
---

The art of being ready for anything
During 2022 we presented to a variety of events and organisations.
In this recent presentation, Tracy Hatton talks about organisational resilience, what it is, why it is important, and the small steps that over time can build a robust organisation ready to survive any crisis and thrive in a world of uncertainty.
This presentation was the keynote speech of the Flauna & Flora International (FFI) and the Wildlife Conservation Society (WCS) global online Organisational Resilience Festival.
Watch The Art of Being Ready for Anything presentation
---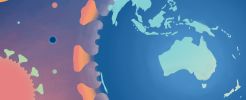 Our insights from COVID debriefs
Over the last couple of years, we have been working with organisations facilitating debriefs to ensure they have captured lessons learned from their covid response.

Summer reading recommendations from the ResOrgs team
Invisible Women: Exposing Data Bias in a World Designed for Men by Caroline Criado Perez
Through a range of case studies, stories and research from around the world, Invisible Women explores how the collection of big data perpetuates systemic gender bias against women, in a world that is largely built for and by men.
The Colour of Law: A Forgotten History of How Our Government Segregated America by Richard Rothstein
The Colour of Law explores the way in which laws and policies were deliberately engineered and applied to develop – and entrench –  systemic segregation in the United States.
The Culture Code by Daniel Coyle 
The Culture Code reveals the secrets of some of the best teams in the world - from Pixar to Google to US Navy SEALs - explaining the three skills such groups have mastered in order to generate trust and a willingness to collaborate. Combining cutting-edge science, on-the-ground insight and practical ideas for action, it offers a roadmap for creating an environment where innovation flourishes, problems get solved, and expectations are exceeded.